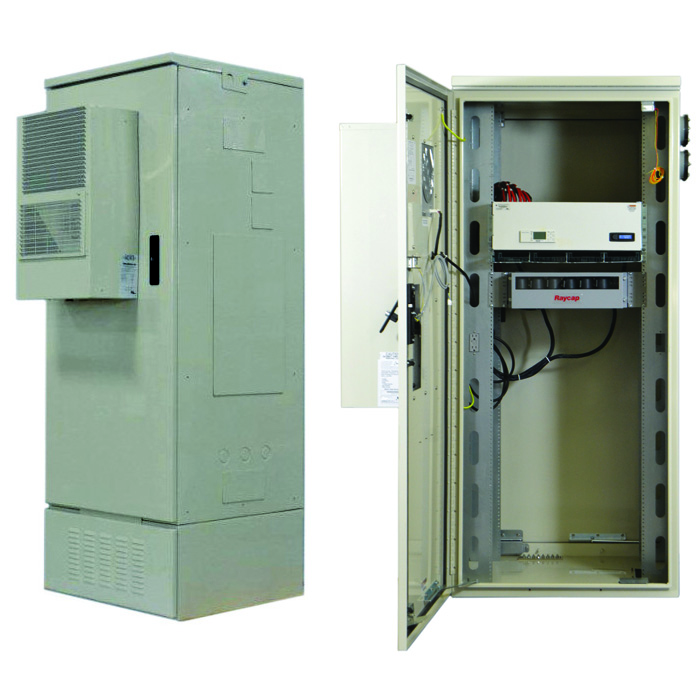 Pad Mount Equipment Cabinets (CUBE PM Series)
Pad Mount Equipment Cabinets (CUBE PM Series) are designed specifically to protect high density installations of network equipment in outdoor environments and are ideal for wireless, wireline, and utility applications.
Pad Mount Equipment Cabinets are ideally suited for Macro Cell Site and Centralized Radio Access Network (CRAN) applications. With the strong push to roll out LTE, 5G, C band and/or edge servers, large numbers of new macro cells are being built. Cell site equipment has gotten smaller and more efficient over the years, and movement towards CRAN architecture further reduces the footprint. Charles has developed a line of solutions to assist these deployments with rugged and compact enclosures for today's dynamic cell site needs. Various thermal options are available to ensure your equipment is protected and your site is reliable, including heat exchangers and air conditioners.
CUBE Pad Mount Equipment (PM), Site Support (SS) and Battery Backup (BB) Series cabinets combine to form a complete macro site solution set. Equipment can be placed in the PM cabinet, while power and battery equipment is combined in the SS enclosures. A standalone BB cabinet may be utilized to provide additional reserve capacity. All three of these cabinet series are built to the same height, width and depth dimensions to provide an aesthetically pleasing lineup that facilitates uniform space requirements.
Features and Benefits
Flexibility
Wide range of thermal management options for even the most demanding heat dissipation needs allows for optimization of thermal performance and reduced energy costs

Offers a wide range of configuration options providing maximum flexibility including optional integrated power plants, protection, site monitoring, and fiber patch panels

Various accessories available including plinths, top hat cable entry compartments, laptop tray kits and sliding rack trays

Offers ample room (16-44 RU) for electronics in the main chamber, with additional chamber options for added capacity that is separated for restricted access

Support for carrier adds and site modifications
Economic
Specifically designed for Macro Cell Site and Centralized Radio Access Network (CRAN) applications, provides an economical alternative to shelter and hut deployments for protecting a wide range of radio and base station equipment
Installation Mounting
Includes bolt-mounted lifting ears for placement by crane or other lifting equipment

Optional composite mounting platforms reduce cost and deployment time compared to traditional concrete pad installations
Technician Friendly Features
Front and rear access doors allow technicians access to equipment storage areas and cable routing;Well organized cable management and routing makes for easy installation
Material Specification
Constructed of durable, welded aluminum
Environmental
Enclosures and thermal systems have a powder coated finish to withstand the elements and provide superior environmental protection
Industry Certifications
Certified to stringent Telcordia GR-487 specifications for electronic enclosure cabinets, UL, and are designed to meet NEMA 4X (sealed cabinets) or 3R (vented cabinets) standards
Product Details
Ordering Information
Charles CUBE PM Series (click link for ordering guide)
16-27RU, 19" or 23" Fixed Rail, Front Only or Front & Rear Doors
16-20RU, 19" or 23" Swing-Out Rack, Front Only Doors
27RU, 23" Fixed Rail, Front and Rear Doors
16RU, (2) 23" Fixed Rail, Front and Rear Doors
20RU, (2) 23" Fixed Rail, Front and Rear Doors
24RU, (2) 23" Fixed Rail, Front and Rear Doors
30RU, (2) 23" Fixed Rail, Front and Rear Doors
76RU, 19" Fixed Rail, Front and Rear Doors, 2 Bay
16RU, (2) 23" Fixed Rail, Front and Rear Doors
20RU, 23" Fixed Rail, Front and Rear Doors
30-31RU, 19" or 23" Fixed or Swing Rail, Front and Rear Doors
39RU, (2) 23" Fixed Rail, Front and Rear Doors
44RU, (2) 23" Fixed Rail, Front and Rear Doors
Addtional Outdoor Cabinets