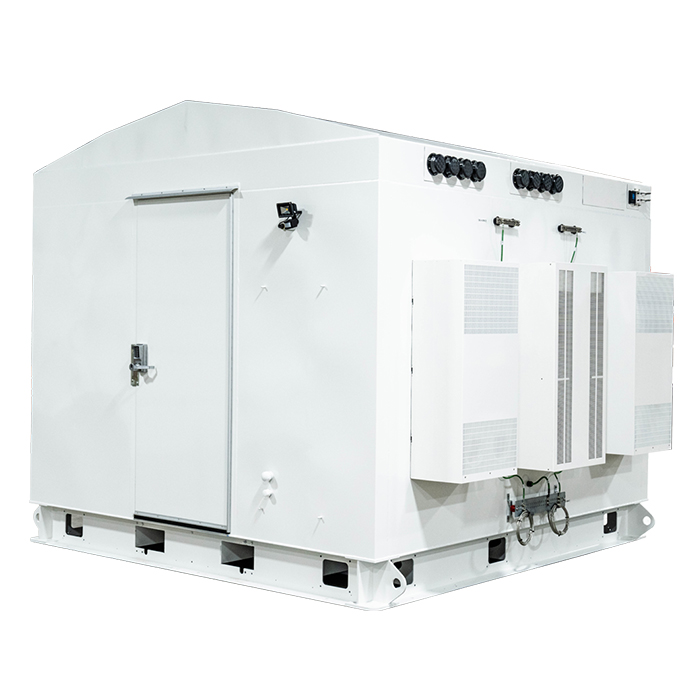 Walk-In Cabinets (WIC)
Charles Walk-In Cabinets (WIC) are protective walk-in enclosures housing an integrated system of electronic components and equipment that can serve fiber and copper interfaces. Charles Walk-In Cabinets offer a lighter weight alternative to concrete basestation shelters providing a lower total cost of ownership. With the use of the Charles Thermal Management System (CTMS) as the closure's main thermal system, the closed loop thermal solution requires no maintenance and offers energy savings over current concrete buildings and huts.
The WIC houses multiple equipment racks suitable for customer supplied equipment. The WIC has four Charles CTMS thermal devices mounted on the side walls, as well as a Charles Intelligent Ventilation System (IVS). Motion-sensitive lighting units are mounted on the front and rear. Multiple exterior ground bars all connect to an interior master ground bar.
Features and Benefits
Flexibility
Wide range of thermal management options for even the most demanding heat dissipation needs allows for optimization of thermal performance and reduced energy costs

Features such as a laptop tray, document holder, DC interior and exterior lighting, 12" cable ladder above racks, and a convenience outlet support maximum technician productivity
Economic
Significantly lower annual energy cost of thermal solution implementation which also reduces generator size requirements
Installation Mounting
Helical/Pad or Platform Mounting options

Stair kit available when direct mounting on a concrete pad

Pre-fabricated structure is delivered to site locations pre-assembled and ready to install
Technician Friendly Features
Closed loop thermal solution requires no maintenance making the WIC an ideal alternative for remote site installations where access to technician is difficult
Material Specification
Durable, 12 gauge steel welded construction

R13 insulation for maximum thermal efficiency
Environmental
10'H x 10'W x 10'D weather proof structure provides ample room to protect both equipment and technicians from the elements

Enclosures and thermal systems have a powder coated finish to withstand the elements and provide superior environmental protection

Door Intrusion, High Temperature, Thermal System Failure Alarms
Product Details
Ordering Information
Addtional Outdoor Cabinets