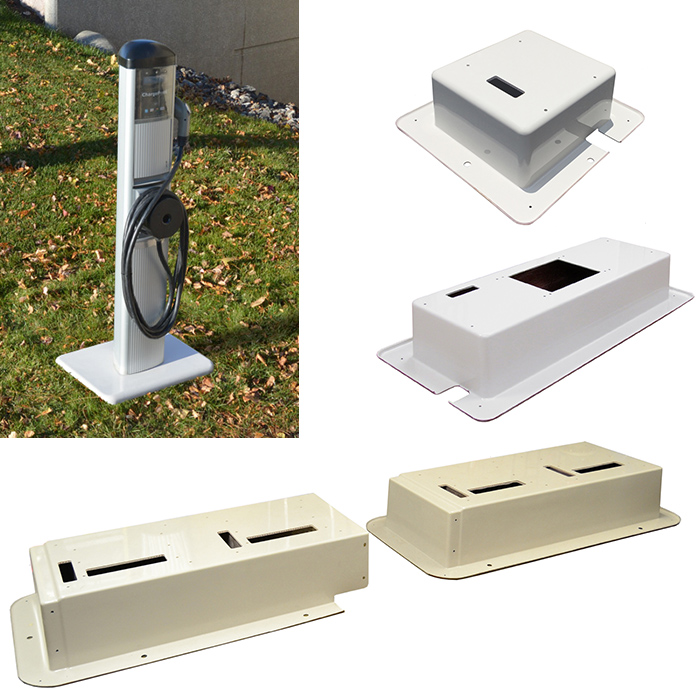 Composite Mounting Platforms (CPAD)
Charles Composite Pads (CPAD) are economical alternatives for poured in place and pre-cast concrete pads. They eliminate on-site work, save time, and reduce injury risk associated with handling and maneuvering heavy concrete. With today's compressed schedules to complete builds, the CPAD solution enables rapid deployment with minimal on-site project planning and coordination. Made from advanced composite materials, CPAD are extremely durable, lightweight, and simple to install.
There are application specific pads for all Charles wireless and wireline cabinets. Charles has also developed a line of Universal CPAD compatible for mounting cabinets, generators, and pedestals from nearly any manufacturer. CPAD are available and suitable for a number of other outdoor equipment installations such as electric vehicle charging stations and kiosks with digital signage.
Features and Benefits
Flexibility
Support up to 8,000 lbs. of load (or 20,000 lbs with bracing)

Added benefit of additional storage under platform for cable slack and conduit

One-piece and modular designs available
Economic
Provides up to 50% cost savings over concrete installations

Allows for rapid placement without heavy equipment or curing time

Enables same-day installation of pad mount enclosures and equipment


Installation Mounting
Lightweight and easy to install
Technician Friendly Features
Improve safety and reduce site injury risk compared to concrete

Non-conductive for improved safety
Material Specification
Extremely durable construction from advanced composite materials
Environmental
Withstands winds of up to 150 MPH with attached cabinet preventing equipment blow-over and pad displacement

Usable on inclines of up to 15% grade

Suitable for a number of other outdoor equipment installations including wireline and wireless cabinets, generators, electric vehicle charging stations and signage kiosks
Industry Certifications
Fully compliant to SCTE/ANSI-77 2013 Standard which covers Impact Resistance, Flammability, Sunlight Exposure, Chemical Resistance (includes Telcordia GR-902 Chemical list), Brush Fire Test, Water Absorption and Tier 15 and Tier 22 Load Ratings
Wireless Enclosure Platforms
Small Cell
A variety of CPADs have been designed to match Charles groundmount Small Cell cabinet and shroud solutions
Small Cell CPAD Solutions
Macro Site
A modular CPAD solution has been designed which accommodates Charles Macro Site Cabinet Solutions including Site Support, Battery Backup and Equipment Cabinets. Separate CPAD solutions are available to support diesel generators from Generac, Kohler, Polar and MTU
Macro Site CPAD Solutions
Wireline Enclosure Solutions
Fiber Hub
The Integrated CPAD with 30″x48″ TRUE Split Cover Below Grade Enclosure in an all-in-one solution designed for mounting Primary Flexibility Point (PFP) cabinets with room below the pad and cover for sealed fiber splice cases and cable slack storage
Fiber Hub CPAD Solutions
Universal Applications
Ground Mount Cabinets & Generators
The Universal CPAD supports cabinets and generators from all manufacturers. The cabinet or generator's mounting holes are used as a template, with holes being drilled for perfect placement, and then anchors installed from the top
Universal CPAD Solutions

Electric Vehicle Charging Stations
Digital Signs & Kiosks
The Universal CPAD may also be used support digital sign and kiosk installations, providing an economical and quick installation alternative to poured concreted installations