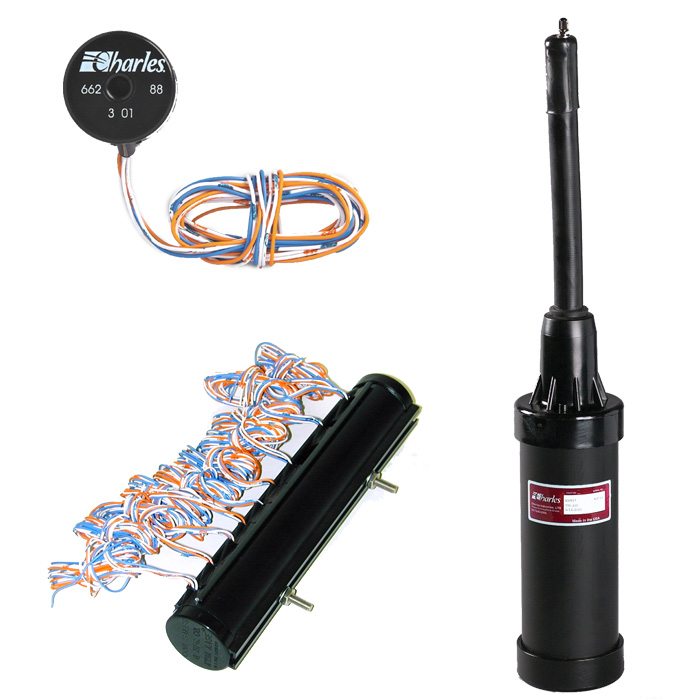 Load Coils & Line Conditioning Devices
For more than 50 years, Charles Industries (formerly Coil Sales) has pioneered load coil technology to develop the highest performing, most reliable coils available anywhere. Our very first product manufactured was the revolutionary single-entry load coil. Today, our coils serve in the vast majority of RBOC, CLEC and IOC networks, helping bring phone service to every corner of the globe.
Charles Load Coils are furnished with a high permeability, nickel core made to our precise specifications to guarantee lower DC resistance. Matched bifilar quadruple-insulated windings ensure nearly perfect DC and inductive balance. Mechanical connectors have replaced solder connections, acting as a heat sink and eliminating intermittency in transmission due to cold solder joints. Charles Load Coils provide a non-expanding encapsulant with the lowest viscosity available. This encapsulant ensures total penetration, provides a superior pressure dam, and absorbs thermal shock.
Product Details
Ordering Information
B152 Single Load Coils / Kwik Kases®
010054
LOAD COIL-B152 01 656B 66MH SINGLE- MANUFACTURE DISCONTINUED
010053
LOAD COIL-B152-01/662-88MH SINGLE COIL- MANUFACTURE DISCONTINUED
043441
LOAD COIL-B152 02 656B 66MH COILS- MANUFACTURE DISCONTINUED
010029
LOAD COIL-B152-02/662-88MH COILS IN KWIK KASE- MANUFACTURE DISCONTINUED
033575
LOAD COIL-B152 03 656B 66MH COILS- MANUFACTURE DISCONTINUED
010030
LOAD COIL-B152-03/662-88MH COILS IN KWIK KASE- MANUFACTURE DISCONTINUED
010058
LOAD COIL-B152-03/662-88MH COILS W/BOLT & NUT- MANUFACTURE DISCONTINUED
033562
LOAD COIL-B152 06 656B 66MH COILS- MANUFACTURE DISCONTINUED
010033
LOAD COIL-B152-06/662-88MH COILS IN KWIK KASE- MANUFACTURE DISCONTINUED
033563
LOAD COIL-B152 12 656B 66MH COILS- MANUFACTURE DISCONTINUED
010039
LOAD COIL-B152-12/662-88MH COILS IN KWIK KASE- MANUFACTURE DISCONTINUED
010045
LOAD COIL-B152-18/662-88MH COILS IN KWIK KASE- MANUFACTURE DISCONTINUED
033472
LOAD COIL-B152 25 656B 66MH COILS- MANUFACTURE DISCONTINUED
010052
LOAD COIL-B152-25/662-88MH COILS IN KWIK KASE- MANUFACTURE DISCONTINUED
010077
12-22-06 EMPTY KWIK KASE FOR UP TO 6 EA 1.75" DIAMETER SMART COILS- MANUFACTURE DISCONTINUED
010074
12-22-12 EMPTY KWIK KASE FOR UP TO 12 EA 1.75" DIAMETER SMART COILS- MANUFACTURE DISCONTINUED
010075
12-22-18 EMPTY KWIK KASE FOR UP TO 18 EA 1.75" DIAMETER SMART COILS- MANUFACTURE DISCONTINUED
010076
12-22-25 EMPTY KWIK KASE FOR UP TO 25 EA 1.75" DIAMETER SMART COILS- MANUFACTURE DISCONTINUED
010091
6-22-06 EMPTY KWIK KASE FOR UP TO 6 EA 1.375" DIAMETER STANDARD COILS- MANUFACTURE DISCONTINUED
010088
6-22-12 EMPTY KWIK KASE FOR UP TO 12 EA 1.375" DIAMETER STANDARD COILS- MANUFACTURE DISCONTINUED
010089
6-22-18 EMPTY KWIK KASE FOR UP TO 18 EA 1.375" DIAMETER STANDARD COILS- MANUFACTURE DISCONTINUED
010090
6-22-25 EMPTY KWIK KASE FOR UP TO 25 EA 1.375" DIAMETER STANDARD COILS- MANUFACTURE DISCONTINUED
901 Encapsulated Load Coil Ready Access
050065
LOAD COIL-901-03/662-88MH READY ACCESS- MANUFACTURE DISCONTINUED
030891
LOAD COIL-901 03 656B 66MH READY ACCESS- MANUFACTURE DISCONTINUED
050066
LOAD COIL-901-06/662-88MH READY ACCESS- MANUFACTURE DISCONTINUED
030892
LOAD COIL-901 06 656B 66MH READY ACCESS- MANUFACTURE DISCONTINUED
034226
LOAD COIL-901-10/662-88MH READY ACCESS- MANUFACTURE DISCONTINUED
050070
LOAD COIL-901-11/662-88MH READY ACCESS- MANUFACTURE DISCONTINUED
050067
LOAD COIL-901-12/662-88MH READY ACCESS- MANUFACTURE DISCONTINUED
030896
LOAD COIL-901 12 656B 66MH READY ACCESS- MANUFACTURE DISCONTINUED
050071
LOAD COIL-901-16/662-88MH READY ACCESS- MANUFACTURE DISCONTINUED
050068
LOAD COIL-901-18/662-88MH READY ACCESS- MANUFACTURE DISCONTINUED
030898
LOAD COIL-901 18 656B 66MH READY ACCESS- MANUFACTURE DISCONTINUED
050069
LOAD COIL-901-25/662-88MH READY ACCESS- MANUFACTURE DISCONTINUED
030899
LOAD COIL-901 25 656B 66MH READY ACCESS- MANUFACTURE DISCONTINUED
601 Modular Encapsulated Single Load Coils assembled in Kwik Kases®
011303
LOAD COIL-601 03 632 88MH READY ACCESS- MANUFACTURE DISCONTINUED
011503
LOAD COIL-601 03 656 66MH READY ACCESS- MANUFACTURE DISCONTINUED
011306
LOAD COIL-601 06 632 88MH READY ACCESS- MANUFACTURE DISCONTINUED
011506
LOAD COIL-601 06 656 66MH READY ACCESS- MANUFACTURE DISCONTINUED
011312
LOAD COIL-601 12 632 88MH READY ACCESS- MANUFACTURE DISCONTINUED
011512
LOAD COIL-601 12 656 66MH READY ACCESS- MANUFACTURE DISCONTINUED
011518
LOAD COIL-601 18 656 66MH READY ACCESS- MANUFACTURE DISCONTINUED
011325
LOAD COIL-601 25 632 88MH READY ACCESS- MANUFACTURE DISCONTINUED
011525
LOAD COIL-601 25 656 66MH READY ACCESS- MANUFACTURE DISCONTINUED
Universal (770) Load Coil Cases
500862
LOAD COIL-770-0025 66MH SP 15' D-ENCAP- MANUFACTURE DISCONTINUED
031503
LOAD COIL-770-0025/656-66MH SP 10' AIR CORE- MANUFACTURE DISCONTINUED
033336
LOAD COIL-770-0025/656-66MH SP 10' D-ENCAP- MANUFACTURE DISCONTINUED
061000
LOAD COIL-770-0025/662-88MH SP 10' AIR CORE- MANUFACTURE DISCONTINUED
032685
LOAD COIL-770-0025/662-88MH SP 10' D-ENCAP- MANUFACTURE DISCONTINUED
061001
LOAD COIL-770-0025/662-88MH SP 15' AIR CORE- MANUFACTURE DISCONTINUED
061005
LOAD COIL-770-0025/662-88MH SP 15' D-ENCAP- MANUFACTURE DISCONTINUED
061002
LOAD COIL-770-0025/662-88MH SP 20' AIR CORE- MANUFACTURE DISCONTINUED
061006
LOAD COIL-770-0025/662-88MH SP 20' D-ENCAP- MANUFACTURE DISCONTINUED
061003
LOAD COIL-770-0025/662-88MH SP 25' AIR CORE- MANUFACTURE DISCONTINUED
061007
LOAD COIL-770-0025/662-88MH SP 25' D-ENCAP- MANUFACTURE DISCONTINUED
031512
LOAD COIL-770-0050/656-66MH SP 10' AIR CORE- MANUFACTURE DISCONTINUED
033183
LOAD COIL-770-0050/656-66MH SP 10' D-ENCAP- MANUFACTURE DISCONTINUED
031513
LOAD COIL-770-0050/656-66MH SP 15' AIR CORE- MANUFACTURE DISCONTINUED
033629
LOAD COIL-770-0050/656-66MH SP 15' D-ENCAP- MANUFACTURE DISCONTINUED
061008
LOAD COIL-770-0050/662-88MH SP 10' AIR CORE- MANUFACTURE DISCONTINUED
032686
LOAD COIL-770-0050/662-88MH SP 10' D-ENCAP- MANUFACTURE DISCONTINUED
061009
LOAD COIL-770-0050/662-88MH SP 15' AIR CORE- MANUFACTURE DISCONTINUED
061013
LOAD COIL-770-0050/662-88MH SP 15' D-ENCAP- MANUFACTURE DISCONTINUED
061010
LOAD COIL-770-0050/662-88MH SP 20' AIR CORE- MANUFACTURE DISCONTINUED
061014
LOAD COIL-770-0050/662-88MH SP 20' D-ENCAP- MANUFACTURE DISCONTINUED
061011
LOAD COIL-770-0050/662-88MH SP 25' AIR CORE- MANUFACTURE DISCONTINUED
061015
LOAD COIL-770-0050/662-88MH SP 25' D-ENCAP- MANUFACTURE DISCONTINUED
032917
LOAD COIL-770-0050/662-88MH SP 30' D-ENCAP- MANUFACTURE DISCONTINUED
043644
LOAD COIL-770-0100/656-66MH SP 10' AIR CORE- MANUFACTURE DISCONTINUED
033120
LOAD COIL-770-0100/656-66MH SP 10' D-ENCAP- MANUFACTURE DISCONTINUED
031527
LOAD COIL-770-0100/656-66MH SP 15' AIR CORE- MANUFACTURE DISCONTINUED
033503
LOAD COIL-770-0100/656-66MH SP 15' D-ENCAP- MANUFACTURE DISCONTINUED
061024
LOAD COIL-770-0100/662-88MH SP 10' AIR CORE- MANUFACTURE DISCONTINUED
032688
LOAD COIL-770-0100/662-88MH SP 10' D-ENCAP- MANUFACTURE DISCONTINUED
061025
LOAD COIL-770-0100/662-88MH SP 15' AIR CORE- MANUFACTURE DISCONTINUED
061029
LOAD COIL-770-0100/662-88MH SP 15' D-ENCAP- MANUFACTURE DISCONTINUED
061026
LOAD COIL-770-0100/662-88MH SP 20' AIR CORE- MANUFACTURE DISCONTINUED
061030
LOAD COIL-770-0100/662-88MH SP 20' D-ENCAP- MANUFACTURE DISCONTINUED
061027
LOAD COIL-770-0100/662-88MH SP 25' AIR CORE- MANUFACTURE DISCONTINUED
061031
LOAD COIL-770-0100/662-88MH SP 25' D-ENCAP- MANUFACTURE DISCONTINUED
033181
LOAD COIL-770-0200/656-66MH SP 10' D-ENCAP- MANUFACTURE DISCONTINUED
031566
LOAD COIL-770-0200/656-66MH SP 15' AIR CORE- MANUFACTURE DISCONTINUED
033481
LOAD COIL-770-0200/656-66MH SP 15' D-ENCAP- MANUFACTURE DISCONTINUED
061056
LOAD COIL-770-0200/662-88MH SP 10' AIR CORE- MANUFACTURE DISCONTINUED
032687
LOAD COIL-770-0200/662-88MH SP 10' D-ENCAP- MANUFACTURE DISCONTINUED
061057
LOAD COIL-770-0200/662-88MH SP 15' AIR CORE- MANUFACTURE DISCONTINUED
061061
LOAD COIL-770-0200/662-88MH SP 15' D-ENCAP- MANUFACTURE DISCONTINUED
061058
LOAD COIL-770-0200/662-88MH SP 20' AIR CORE- MANUFACTURE DISCONTINUED
061062
LOAD COIL-770-0200/662-88MH SP 20' D-ENCAP- MANUFACTURE DISCONTINUED
061059
LOAD COIL-770-0200/662-88MH SP 25' AIR CORE- MANUFACTURE DISCONTINUED
061063
LOAD COIL-770-0200/662-88MH SP 25' D-ENCAP- MANUFACTURE DISCONTINUED
033337
LOAD COIL-770-0300/656-66MH SP 10' D-ENCAP- MANUFACTURE DISCONTINUED
043617
LOAD COIL-770-0300/656-66MH SP 15' AIR CORE- MANUFACTURE DISCONTINUED
061072
LOAD COIL-770-0300/662-88MH SP 10' AIR CORE- MANUFACTURE DISCONTINUED
061141
LOAD COIL-770-0300/662-88MH SP 10' D-ENCAP- MANUFACTURE DISCONTINUED
061073
LOAD COIL-770-0300/662-88MH SP 15' AIR CORE- MANUFACTURE DISCONTINUED
061077
LOAD COIL-770-0300/662-88MH SP 15' D-ENCAP- MANUFACTURE DISCONTINUED
061074
LOAD COIL-770-0300/662-88MH SP 20' AIR CORE- MANUFACTURE DISCONTINUED
061078
LOAD COIL-770-0300/662-88MH SP 20' D-ENCAP- MANUFACTURE DISCONTINUED
033338
LOAD COIL-770-0400/656-66MH SP 10' D-ENCAP- MANUFACTURE DISCONTINUED
061080
LOAD COIL-770-0400/662-88MH SP 10' AIR CORE- MANUFACTURE DISCONTINUED
061142
LOAD COIL-770-0400/662-88MH SP 10' D-ENCAP- MANUFACTURE DISCONTINUED
061081
LOAD COIL-770-0400/662-88MH SP 15' AIR CORE- MANUFACTURE DISCONTINUED
061085
LOAD COIL-770-0400/662-88MH SP 15' D-ENCAP- MANUFACTURE DISCONTINUED
061082
LOAD COIL-770-0400/662-88MH SP 20' AIR CORE- MANUFACTURE DISCONTINUED
061083
LOAD COIL-770-0400/662-88MH SP 25' AIR CORE- MANUFACTURE DISCONTINUED
033264
LOAD COIL-770-0400/662-88MH SP 30' AIR CORE- MANUFACTURE DISCONTINUED
061182
LOAD COIL-770-0400/622-88MH SP 30' D-ENCAP- MANUFACTURE DISCONTINUED
061088
LOAD COIL-770-0450/662-88MH SP 10' AIR CORE- MANUFACTURE DISCONTINUED
061089
LOAD COIL-770-0450/662-88MH SP 15' AIR CORE- MANUFACTURE DISCONTINUED
061093
LOAD COIL-770-0450/662-88MH SP 15' D-ENCAP- MANUFACTURE DISCONTINUED
061090
LOAD COIL-770-0450/662-88MH SP 20' AIR CORE- MANUFACTURE DISCONTINUED
061094
LOAD COIL-770-0450/662-88MH SP 20' D-ENCAP- MANUFACTURE DISCONTINUED
061128
LOAD COIL-770-0450/662-88MH SP 30' AIR CORE- MANUFACTURE DISCONTINUED
061104
LOAD COIL-770-0600/662-88MH SP 10' AIR CORE- MANUFACTURE DISCONTINUED
061144
LOAD COIL-770-0600/662-88MH SP 10' D-ENCAP- MANUFACTURE DISCONTINUED
061105
LOAD COIL-770-0600/662-88MH SP 15' AIR CORE- MANUFACTURE DISCONTINUED
032893
LOAD COIL-770-0600/662-88MH SP 15' D-ENCAP- MANUFACTURE DISCONTINUED
061106
LOAD COIL-770-0600/662-88MH SP 20' AIR CORE- MANUFACTURE DISCONTINUED
032892
LOAD COIL-770-0600/662-88MH SP 20' D-ENCAP- MANUFACTURE DISCONTINUED
061107
LOAD COIL-770-0600/662-88MH SP 25' AIR CORE- MANUFACTURE DISCONTINUED
061111
LOAD COIL-770-0600/662-88MH SP 25' D-ENCAP- MANUFACTURE DISCONTINUED
042776
LOAD COIL-770-0900/656-66MH SP 15' D-ENCAP- MANUFACTURE DISCONTINUED
039962
LOAD COIL-770-0900/662-88MH DP 15' AIR CORE- MANUFACTURE DISCONTINUED
039963
LOAD COIL-770-0900/662-88MH DP 15' D-ENCAP- MANUFACTURE DISCONTINUED
061120
LOAD COIL-770-0900/662-88MH SP 10' AIR CORE- MANUFACTURE DISCONTINUED
061121
LOAD COIL-770-0900/662-88MH SP 15' AIR CORE- MANUFACTURE DISCONTINUED
032904
LOAD COIL-770-0900/662-88MH SP 15' D-ENCAP- MANUFACTURE DISCONTINUED
061122
LOAD COIL-770-0900/662-88MH SP 20' AIR CORE- MANUFACTURE DISCONTINUED
061126
LOAD COIL-770-0900/662-88MH SP 20' D-ENCAP- MANUFACTURE DISCONTINUED
040869
LOAD COIL-770-0900/662-88MH DP 25' D-ENCAP- MANUFACTURE DISCONTINUED
Saturable Inductors
033990
SATURABLE INDUCTOR- 605-0050/1574D A1 10' D-ENCAP- MANUFACTURE DISCONTINUED
Load Coil Mounting Brackets
260027
12-187 MTG BRACKET 4" ALUM- MANUFACTURE DISCONTINUED
032647
12-188 MANHOLE MTG BRACKET 8"- MANUFACTURE DISCONTINUED
260025
12-198PM-1 POLEMOUNT MTG BRACKET 12"- MANUFACTURE DISCONTINUED
RFI Supression Networks
93-01212C-B
12-12C IS2 RFI SUPPRESSION NETWORK- MANUFACTURE DISCONTINUED
93-01213C-B
12-13C IS2 RFI SUPPRESSION NETWORK- MANUFACTURE DISCONTINUED
032485
RFI SUPPRESSION NETWORK- 12-10A- MANUFACTURE DISCONTINUED
026053
RFI SUPPRESSION NETWORK- 12-14C SELECTABLE- MANUFACTURE DISCONTINUED
B152 Build-Out Capacitor Modules / Ready Access
050035
BUILD OUT CAPACITOR- B152-01/6-28 MODULE 4500VDC- MANUFACTURE DISCONTINUED
041603
BUILD OUT CAPACITOR- B152-03/6-28 MODULE 4500VDC- MANUFACTURE DISCONTINUED
500541
BUILD OUT CAPACITOR- B152 06 6-24 1500VDC- MANUFACTURE DISCONTINUED
067113
BUILD OUT CAPACITOR- B152 12 6-24 IN KWIK KASE 66 MH- MANUFACTURE DISCONTINUED
039327
BUILD OUT CAPACITOR- B152-25/6-28 IN KWIK KASE 4500VDC- MANUFACTURE DISCONTINUED
050003
BUILD OUT CAPACITOR- C152 01 12-28 MODULE- MANUFACTURE DISCONTINUED
030753
BUILD OUT CAPACITOR- C152 12 12-28 4500 VDC- MANUFACTURE DISCONTINUED
Standard 601 Build-Out Capacitor Encapsulated Ready Access
043512
BUILD OUT CAPACITOR- 601-25/6-28 READY ACCESS 4500VDC- MANUFACTURE DISCONTINUED
042687
BUILD OUT CAPACITOR- 601 0006 12-24 READY ACCESS- MANUFACTURE DISCONTINUED
030841
BUILD OUT CAPACITOR- 601 0006 12-28 READY ACCESS- MANUFACTURE DISCONTINUED
042701
BUILD OUT CAPACITOR- 601 0009 12-24 READY ACCESS- MANUFACTURE DISCONTINUED
043524
BUILD OUT CAPACITOR- 601 0010 12-24 READY ACCESS- MANUFACTURE DISCONTINUED
030859
BUILD OUT CAPACITOR- 601 0012 12-28 READY ACCESS- MANUFACTURE DISCONTINUED
030875
BUILD OUT CAPACITOR- 601 0018 12-28 READY ACCESS- MANUFACTURE DISCONTINUED
050085
BUILD OUT CAPACITOR- 601 0025 12-28 READY ACCESS- MANUFACTURE DISCONTINUED
901 Build-Out Capacitor Encapsulated Ready Access
043557
BUILD OUT CAPACITOR- 901-12/6-24-2 READY ACCESS 1500VDC W/662 COILS- MANUFACTURE DISCONTINUED
Universal 605-Type Build-Out Capacitors Cases
250234
BUILD OUT CAPACITOR- 605-0025/6-24 A1 10' AIR CORE 1500VDC W/662 COILS- MANUFACTURE DISCONTINUED
250219
BUILD OUT CAPACITOR- 605-0025/6-28 A1 10' AIR CORE 1500VDC- MANUFACTURE DISCONTINUED
039601
BUILD OUT CAPACITOR- 605-0025/6-28 A1 10' D-ENCAP 4500VDC- MANUFACTURE DISCONTINUED
043354
BUILD OUT CAPACITOR- 605-0050/6-24 A1 10' AIR CORE 4500VDC W/662 COILS- MANUFACTURE DISCONTINUED
250220
BUILD OUT CAPACITOR- 605-0050/6-28 A1 10' AIR CORE 1500VDC - MANUFACTURE DISCONTINUED
031227
BUILD OUT CAPACITOR- 605-0050/6-28 A1 15' AIR CORE 4500VDC- MANUFACTURE DISCONTINUED
250235
BUILD OUT CAPACITOR- 605-0100/6-24 A1 10' AIR CORE 1500VDC W/662 COILS- MANUFACTURE DISCONTINUED
031249
BUILD OUT CAPACITOR- 605-0100/6-28 A1 15' AIR CORE 4500VDC- MANUFACTURE DISCONTINUED
042342
BUILD OUT CAPACITOR- 605-0100/12-24 A1 10' D-ENCAP- MANUFACTURE DISCONTINUED
031273
BUILD OUT CAPACITOR- 605-0150/6-28 A1 15' AIR CORE 4500VDC- MANUFACTURE DISCONTINUED
031284
BUILD OUT CAPACITOR- 605-0200/6-28 A1 15' AIR CORE 4500VDC- MANUFACTURE DISCONTINUED
041175
BUILD OUT CAPACITOR- 605-0300/6-24 A1 10' D-ENCAP- MANUFACTURE DISCONTINUED
043909
BUILD OUT CAPACITOR- 605-0300/6-24 A1 10' D-ENCAP 66MH- MANUFACTURE DISCONTINUED
031307
BUILD OUT CAPACITOR- 605-0300/6-28 A1 15' AIR CORE 4500VDC- MANUFACTURE DISCONTINUED
031330
BUILD OUT CAPACITOR- 605-0400/6-28 A1 15' AIR CORE 4500VDC- MANUFACTURE DISCONTINUED
031353
BUILD OUT CAPACITOR- 605-0600/6-28 A1 10' AIR CORE 4500VDC- MANUFACTURE DISCONTINUED
031354
BUILD OUT CAPACITOR- 605-0600/6-28 A1 15' AIR CORE 4500VDC- MANUFACTURE DISCONTINUED
031376
BUILD OUT CAPACITOR- 605-0900/6-28 A1 15' AIR CORE 4500VDC- MANUFACTURE DISCONTINUED
043173
BUILD OUT CAPACITOR- 770-0012/6-28 SP 10' D-ENCAP 4500VDC- MANUFACTURE DISCONTINUED
043577
BUILD OUT CAPACITOR- 770-0025/6-24 SP 10' D-ENCAP - MANUFACTURE DISCONTINUED
061148
BUILD OUT CAPACITOR- 770-0025/6-28 SP 10' AIR CORE 1500VDC- MANUFACTURE DISCONTINUED
033360
BUILD OUT CAPACITOR- 770-0025/6-28 SP 10' D-ENCAP 1500VDC- MANUFACTURE DISCONTINUED
039707
BUILD OUT CAPACITOR- 770-0025/6-28 SP 10' D-ENCAP 4500VDC- MANUFACTURE DISCONTINUED
033361
BUILD OUT CAPACITOR- 770-0025/6-28 SP 15' D-ENCAP 1500VDC- MANUFACTURE DISCONTINUED
033340
BUILD OUT CAPACITOR- 770-0025/6-28 SP 20' AIR CORE 1500VDC- MANUFACTURE DISCONTINUED
061130
BUILD OUT CAPACITOR- 770-0025/6-28 SP 20' D-ENCAP 1500VDC- MANUFACTURE DISCONTINUED
043458
BUILD OUT CAPACITOR- 770-0050/6-24 SP 10' D-ENCAP 1500VDC W/662 COILS- MANUFACTURE DISCONTINUED
043908
BUILD OUT CAPACITOR- 770-0050/6-24 SP 10' 66 MH- MANUFACTURE DISCONTINUED
032774
BUILD OUT CAPACITOR- 770-0050/6-28 SP 10' AIR CORE 4500VDC- MANUFACTURE DISCONTINUED
033362
BUILD OUT CAPACITOR- 770-0050/6-28 SP 10' D-ENCAP 1500VDC- MANUFACTURE DISCONTINUED
039708
BUILD OUT CAPACITOR- 770-0050/6-28 SP 10' D-ENCAP 4500VDC- MANUFACTURE DISCONTINUED
033342
BUILD OUT CAPACITOR 770-0050/6-28 SP 20' AIR CORE 1500VDC- MANUFACTURE DISCONTINUED
061147
BUILD OUT CAPACITOR- 770-0050/6-28 SP 20' D-ENCAP 1500VDC- MANUFACTURE DISCONTINUED
033923
BUILD OUT CAPACITOR- 770-0050/6-28 SP 25' D-ENCAP- MANUFACTURE DISCONTINUED
061151
BUILD OUT CAPACITOR- 770-0100/6-28 SP 10' AIR CORE 1500VDC- MANUFACTURE DISCONTINUED
033366
BUILD OUT CAPACITOR- 770-0100/6-28 SP 10' D-ENCAP 4500VDC- MANUFACTURE DISCONTINUED
033098
BUILD OUT CAPACITOR- 770-0100/6-28 SP 20' AIR CORE 1500VDC- MANUFACTURE DISCONTINUED
040761
BUILD OUT CAPACITOR- 770-0100/6-28 SP 20' D-ENCAP 1500VDC- MANUFACTURE DISCONTINUED
061152
BUILD OUT CAPACITOR- 770-0150/6-28 SP 10' AIR CORE 1500VDC- MANUFACTURE DISCONTINUED
061153
BUILD OUT CAPACITOR- 770-0200/6-28 SP 10' AIR CORE 1500VDC- MANUFACTURE DISCONTINUED
032983
BUILD OUT CAPACITOR- 770-0200/6-28 SP 10' D-ENCAP 1500VDC- MANUFACTURE DISCONTINUED
033348
BUILD OUT CAPACITOR- 770-0200/6-28 SP 10' D-ENCAP 4500VDC- MANUFACTURE DISCONTINUED
033370
BUILD OUT CAPACITOR- 770-0200/6-28 SP 15' D-ENCAP 1500VDC- MANUFACTURE DISCONTINUED
032986
BUILD OUT CAPACITOR- 770-0200/6-28 SP 20' AIR CORE 1500VDC- MANUFACTURE DISCONTINUED
034223
BUILD OUT CAPACITOR- 770-0200/6-28 SP 20' D-ENCAP 1500VDC- MANUFACTURE DISCONTINUED
067112
BUILD OUT CAPACITOR- 770-0300/6-28 SP 10' D-ENCAP 4500VDC- MANUFACTURE DISCONTINUED
032915
BUILD OUT CAPACITOR- 770-0300/6-28 SP 15' AIR CORE 1500VDC- MANUFACTURE DISCONTINUED
033099
BUILD OUT CAPACITOR- 770-0300/6-28 SP 20' AIR CORE 1500VDC- MANUFACTURE DISCONTINUED
067110
BUILD OUT CAPACITOR- 770-0300/6-28 SP 20' D-ENCAP 1500VDC- MANUFACTURE DISCONTINUED
033372
BUILD OUT CAPACITOR- 770-0400/6-28 SP 15' D-ENCAP 1500VDC- MANUFACTURE DISCONTINUED
033097
BUILD OUT CAPACITOR- 770-0400/6-28 SP 20' AIR CORE 1500VDC- MANUFACTURE DISCONTINUED
042805
BUILD OUT CAPACITOR- 770-0450/6-28 SP 20' D-ENCAP 1500VDC- MANUFACTURE DISCONTINUED
032987
BUILD OUT CAPACITOR- 770-0600/6-28 SP 20' AIR CORE 1500VDC- MANUFACTURE DISCONTINUED
033976
BUILD OUT CAPACITOR- 770-0600/6-28 SP 20' D-ENCAP 1500VDC- MANUFACTURE DISCONTINUED
033355
BUILD OUT CAPACITOR- 770-0900/6-28 SP 15' AIR CORE 1500VDC- MANUFACTURE DISCONTINUED
032931
BUILD OUT CAPACITOR- 770-0900/6-28 SP 30' AIR CORE- MANUFACTURE DISCONTINUED
Universal 605-Type Build-Out Lattice Network Cases
041932
BUILD OUT LATTICE NETWORK- 605-0012/6-29 A1 10' D-ENCAP 4500VDC- MANUFACTURE DISCONTINUED