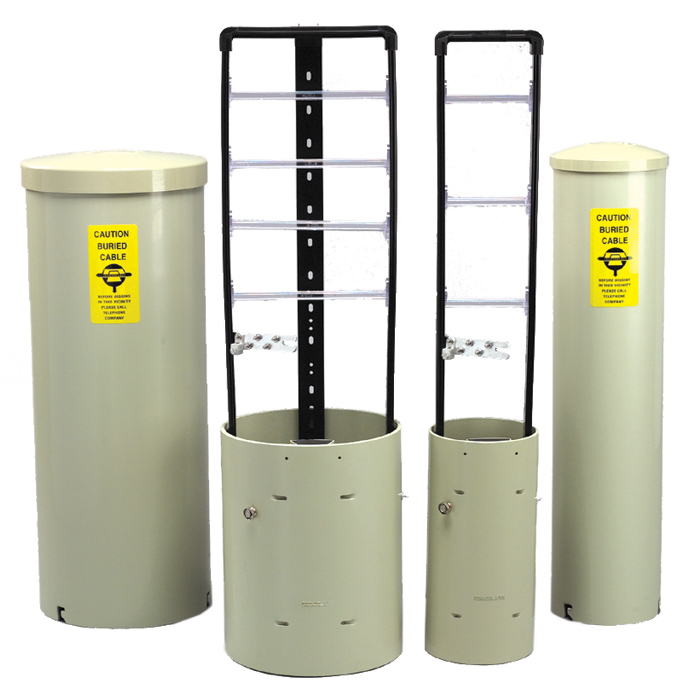 PEDLOCK® BD Series Pedestals
Non-metallic copper buried distribution splice pedestals
Charles Pedlock line of non-metallic, non-conductive pedestals has proven itself in the field for decades. Pedlock BD Series Pedestals provide the flexibility, durability and reliability to be the all-purpose splice closure for independent telephone companies that require an RDUP-accepted pedestal.
The BD Series was designed to provide a variety of feature-rich, non-metallic pedestals with the lowest total cost of ownership. Charles' engineering team listened to our independent telephone company customers and responded by creating an entire line of pedestals designed for ease of installation and maintenance in addition to providing the highest standard of environmental protection.
BD Series pedestals are available in 5 sizes: BD3 (6" dia.), BD4 (8" dia.), BD5 (10" dia.), BD6 (12″ dia.), and BD7 (14" dia.). Charles' BD pedestals feature a common dome height across all sizes, allowing technicians to standardize the length of exposed cable loops and cable ends during cable placement.
Features and Benefits
Flexibility
Designed to house and protect small to medium pair count terminations and splices

BD5 and BD7 pedestals include a third bracket leg on the splice bracket for increased stability and support of heavy loads

Offset ladder bars provide extra splicing capacity and are repositionable for added convenience
Economic
Low total cost of ownership
Installation Mounting
Rigid, non-conductive internal splice bracket easily secures to rail mounting system in pedestal base

5-post metal grounding bar with ground lug designed to meet all industry grounding requirements (BD2 has 2-post metal grounding bar)
Technician Friendly Features
Lift-off dome provides 360º access to internal splicing area

Drop wire channel facilitates wire management
Material Specification
Non-metallic, lightweight PVC construction resists corrosion, impact, fire, floods, chemicals and insects
Environmental
Protects internal components from floods, fires, and wind-blown dust and debris
Product Details
Ordering Information
Addtional Copper Pedestals